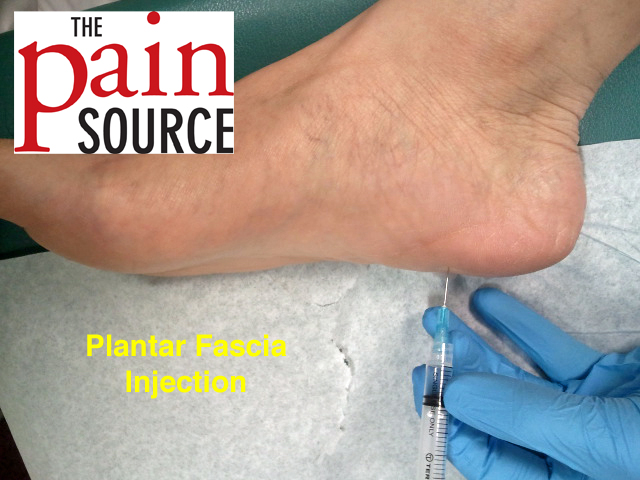 Overview
Plantar fasciitis is one of the most common conditions causing heel pain. The condition involves inflammation of the plantar fascia -- a tough, fibrous band of tissue that runs along the sole of the foot with attachments to the heel bone (calcaneus) proximally and to the base of the toes distally. The plantar fascia provides support to the arch of the foot and has an important role in normal foot mechanics during walking. Tension or stress in the plantar fascia increases when one places weight on the foot (such as with standing) and as one pushes off on the ball of the foot and toes -- motions which occur during normal walking or running. Inflammation and pain start in the fascia either as a result of an increase in activity level (as in initiating a walking or running program), or in association with the normal aging process. With aging, the fascia loses some of its normal elasticity or resilience and can become irritated with routine daily activities. Less commonly, plantar fasciitis can develop in association with general medical conditions such as lupus or rheumatoid arthritis.
Causes
Plantar fasciitis is usually not the result of a single event but more commonly the result of a history of repetitive micro trauma combined with a biomechanical deficiency of the foot. Arthritic changes and metabolic factors may also playa part in this injury but are unlikely in a young athletic population. The final cause of plantar fasciitis is "training errors." In all likelihood the injury is the result of a combination of biomechanical deficiencies and training errors. Training errors are responsible for up to 60% of all athletic injuries (Ambrosius 1992). The most frequent training error seen with plantar fasciitis is a rapid increase in volume (miles or time run) or intensity (pace and/or decreased recovery). Training on improper surfaces, a highly crowned road, excessive track work in spiked shoes, plyometrics on hard runways or steep hill running, can compromise the plantar fascia past elastic limits. A final training error seen in athletics is with a rapid return to some preconceived fitness level. Remembering what one did "last season" while forgetting the necessity of preparatory work is part of the recipe for injury. Metabolic and arthritic changes are a less likely cause of plantar fasciitis among athletes. Bilateral foot pain may indicate a metabolic or systemic problem. The definitive diagnosis in this case is done by a professional with blood tests and possibly x-rays.
Symptoms
The pain is more intense with your first steps out of bed in the morning or after sitting for a while. The reason for this is that during rest our muscles and ligaments tend to shorten and tighten up. The tightening of the plantar fascia means more traction on the ligament making the tissue even more sensitive. With sudden weight-bearing the tissue is being traumatised, resulting in a stabbing pain. After walking around for a while the ligament warms up, becomes a little bit more flexible and adapts itself, making the pain go way entirely or becoming more of a dull ache. However, after walking a long distance or standing for hours the pain will come back again. To prevent the sudden sharp pain in the morning or after sitting, it is important to give the feet a little warm-up first with some simple exercises. Also, any barefoot walking should be avoided, especially first thing in the morning, as this will damage to the plantar fascia tissue. Aparty from pain in the heel or symptoms may include a mild swelling under the heel. In addition, heel pain is often associated with tightness in the calf muscles. Tight calf muscles are a major contributing factor to Plantar Fasciitis.
Diagnosis
Plantar fasciitis is one of many conditions causing "heel pain". Some other possible causes include nerve compression either in the foot or in the back, stress fracture of the calcaneus, and loss of the fatty tissue pad under the heel. Plantar fasciitis can be distinguished from these and other conditions based on a history and examination done by a physician. It should be noted that heel spurs are often inappropriately thought to be the sole cause of heel pain. In fact, heel spurs are common and are nothing more than the bone's response to traction or pulling-type forces from the plantar fascia and other muscles in the foot where they attach to the heel bone. They are commonly present in patients without pain, and frequently absent from those who have pain. It is the rare patient who has a truly enlarged and problematic spur requiring surgery.
Non Surgical Treatment
A change to properly fitting, appropriate shoes may be useful in some patients. Some individuals wear shoes that are too small, which can exacerbate many types of foot pain. Patients often find that wearing shoes with thicker, well-cushioned midsoles, usually made of a material like high-density ethylene vinyl acetate (such as is found in many running shoes), decreases the pain associated with long periods of walking or standing. Studies have shown that with age, running shoes lose a significant portion of their shock absorption. Thus, simply getting a new pair of shoes may be helpful in decreasing pain. For individuals with flat feet, motion control shoes or shoes with better longitudinal arch support may decrease the pain associated with long periods of walking or standing. Motion control shoes usually have the following characteristics: a straight last, board or combination lasted construction, an external heel counter, a wider flare and extra medial support. A change in shoes was cited by 14 percent of patients with plantar fasciitis as the treatment that worked best for them.
Surgical Treatment
Surgery is considered only after 12 months of aggressive nonsurgical treatment. Gastrocnemius recession. This is a surgical lengthening of the calf (gastrocnemius) muscles. Because tight calf muscles place increased stress on the plantar fascia, this procedure is useful for patients who still have difficulty flexing their feet, despite a year of calf stretches. In gastrocnemius recession, one of the two muscles that make up the calf is lengthened to increase the motion of the ankle. The procedure can be performed with a traditional, open incision or with a smaller incision and an endoscope, an instrument that contains a small camera. Your doctor will discuss the procedure that best meets your needs. Complication rates for gastrocnemius recession are low, but can include nerve damage. Plantar fascia release. If you have a normal range of ankle motion and continued heel pain, your doctor may recommend a partial release procedure. During surgery, the plantar fascia ligament is partially cut to relieve tension in the tissue. If you have a large bone spur, it will be removed, as well. Although the surgery can be performed endoscopically, it is more difficult than with an open incision. In addition, endoscopy has a higher risk of nerve damage.
Prevention
Stretching the plantar fascia and the calf muscle area can help to prevent inflammation. Slowly increasing the amount or intensity of athletic activities by graded progression can also help to prevent injury. Recommended Stretches: Taking a lunge position with the injured foot behind and keeping your heels flat on the floor, lean into a wall and bend the knees. A stretch should be felt in the sole and in the Achilles tendon area. Hold the stretch for 20-30 seconds. Also try this stretch with the back leg straight.